Incorporate your favorite moon cycle herbs into a holiday wreath
We are surrounded by cycles–cycles of the earth, cycles of our bodies. In the winter, we also see representation of life's circularity in our wreaths. They represent wholeness and unity, reminding us that everything will keep going. The intimate connection between the parts of a holiday wreath represents the interconnectedness of all life. This symbolism is incredibly important, especially in winter, as we move into the darker parts of the year. For our holiday wreaths this year, we are truly looking within and incorporating some of our favorite moon cycle herbs.
Menstrual: Russian Olives for Peace
The menstrual phase of your moon cycle is the best time to listen to look within and listen to your intuition. Often, intuitive practices brings us internal peace, allowing us to settle into ourselves and our own wisdom. Throughout history and mythology, olives have represented peace. Incorporating them into your winter wreath will remind you of the importance of slowing down and moving inwards. The menstrual phase represents wintertime: reminding ourselves of the beauty of light in the darkness.
Follicular: Yarrow for Courage and Protection
During the follicular phase of your moon cycle, lean into the feelings of creativity and new beginnings embedded into your soul. With this swell of energy, yarrow would be the perfect addition to your wreath. We love yarrow for its magic of courage and protection. Courage and protection are especially relevant during the follicular phase, because we often try new things and seek out new experiences. On your wreath, yarrow is a stunning addition, providing so much air and space to the design.
Ovulation: Clematis Seed Heads for Ingenuity and Cleverness
Our communication skills are at their peak during the ovulation phase.  Thus, clematis seed heads are the perfect moon cycle herb to incorporate into your holiday wreath. Clematis seed heads bring ingenuity and cleverness. These traits are especially important in communicating, allowing your charisma to shine through. We also love the way the clematis seed heads look on a wreath. Their shape brings an understated whimsy to any design, perfect to show movement in a wreath.
Luteal: Scabiosa Pods for Love and Warmth
Winter is the perfect time to radiate love and warmth. By adding scabiosa pods to your winter wreath, you invite that love and warmth into your body and your home. Those two energies are especially relevant during the luteal phase, during which our energy begins to decline and we find ourselves looking inward. The shape of the scabiosa pods displays the comforting radiance, too. We love how they add an otherwordly wildness to any design.
Discussing our cycles, both internal and external, is a huge part of our Earth Within Girls program, where we connect girls to their cycles through the magic of herbs and flowers.
---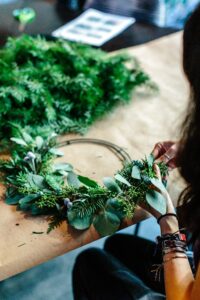 Finding your own wreath magic
We love making with intention alongside our community, especially in the winter season. This year, our wreath workshops look a little different, but we still warmly invite you to join us in making the perfect winter wreath. We're getting cozy with delicious appetizers and enticing cocktails, while tapping into our intuition to weave our wreaths.