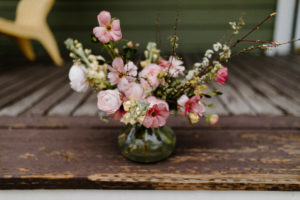 Flower Arrangements for Delivery
All of our flower arrangements are inspired by the textured, poetic beauty of Montana. We often take notes from afternoon hikes and the blooms we find along riverbanks. The lush, mountainous landscape of our surrounding area always makes its way into our designs. We love to work with both fresh and dried flowers, allowing the creative freedom to experiment with different moods and styles.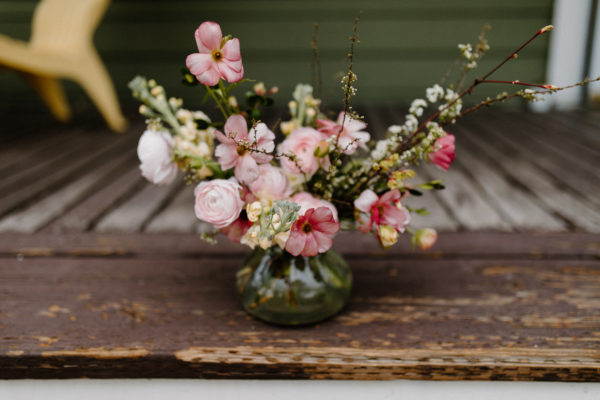 Wedding Floral Design
My name is Melissa Emily, owner of Earth Within Flowers. Our Northwest Montana based floral design studio turns to the simple, delicate beauty of nature and the diverse seasons for inspiration. We are based in Missoula but travel to Glacier National Park, Whitefish, Hamilton and as far as Bozeman. We prioritize sourcing from local farmers and harvesting from natural areas to lean into the stunning beauty of the Montana landscape.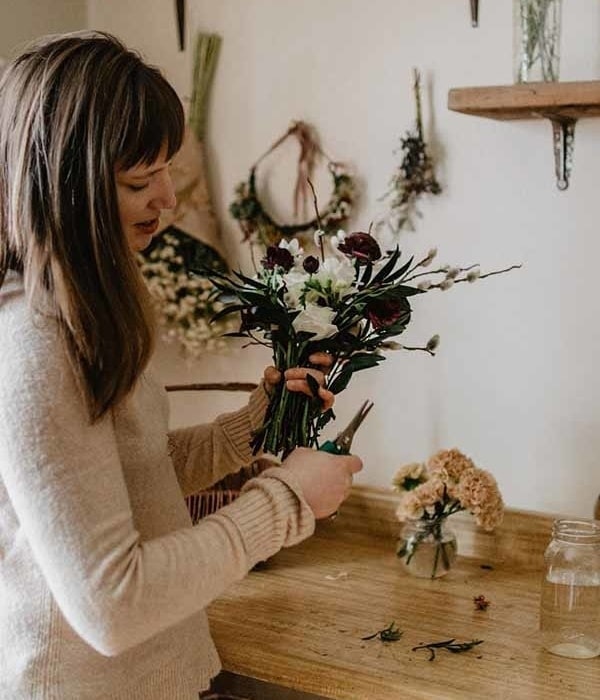 For us, flowers are not just flowers. Each bloom tells its own story, and we love to incorporate this meaning and language into our designs. Eight years ago, we began our floral design journey in the urban gardens of Brooklyn, NY. Now, we are entering our sixth year of business in Missoula, where we continue to share the beauty of seasonal blooms in Northwest Montana.
On your wedding day, give yourself the gift of the freshest, most stunning flowers the region has to offer. Montana bursts with unique wild foliage and flora and has an ideal growing climate for unique cut flowers. When wild harvesting flowers, we choose blooms that will look particularly magical and effortlessly blend into the natural landscape.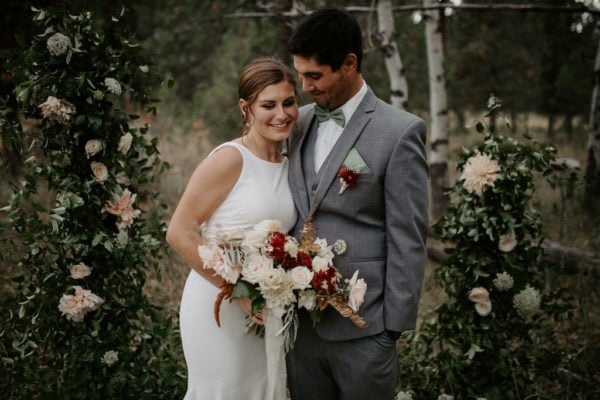 Full Service Wedding Flowers
Being a part of the entire wedding flower planning process is our speciality. Throughout the wedding flower planning process, you can expect a sweetly personalized experience. I love being involved at every part of the way, including the consultation, design and delivery process, making your floral design investment custom-tailored to your unique style and needs.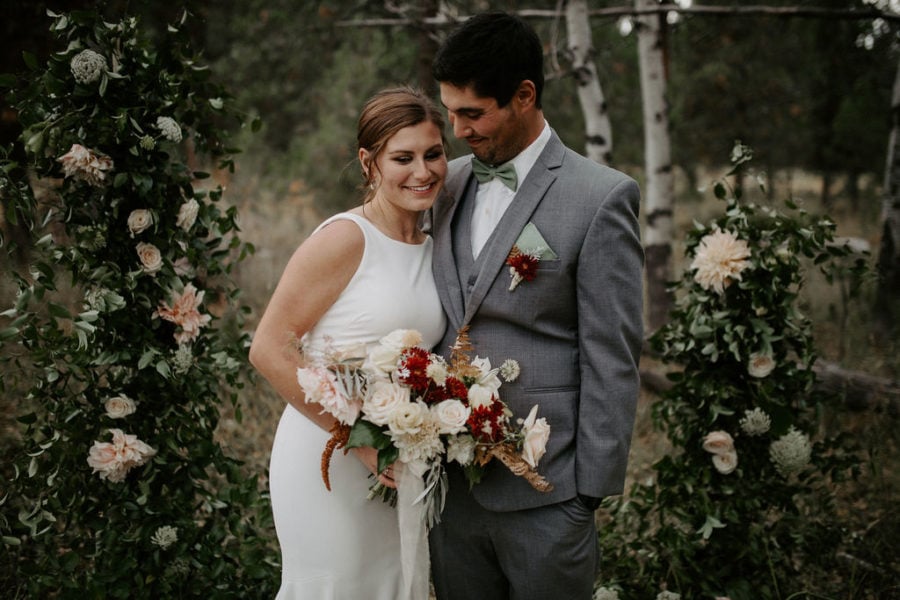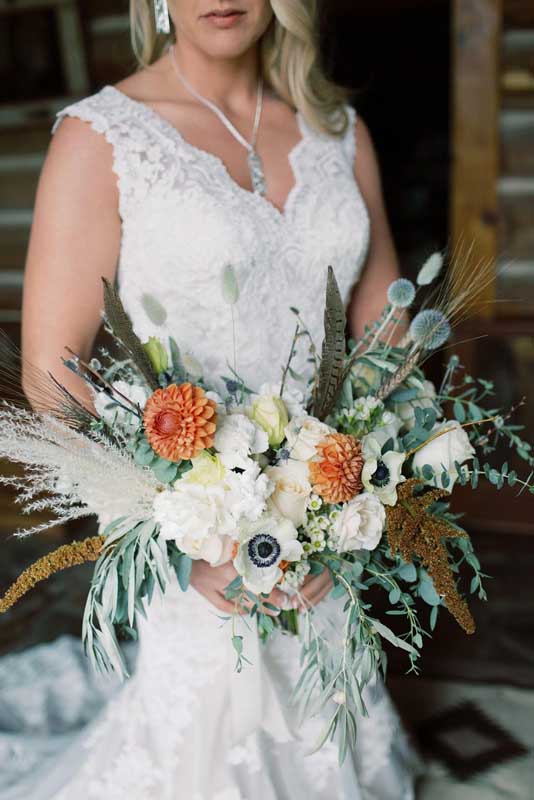 A La Carte Wedding Flowers
Sometimes all you need is a bouquet and a boutonniere. Our A La Carte wedding flowers are perfect for couples with minimalistic budgets or couples who are looking for a simple straightforward floral planning process.
This menu allows you to pick and choose arrangements based upon various floral arrangement price points and sizes. Using your inspiration photos, wedding colors and budget priorities, we will design lovely custom arrangements ready for pick-up the day of your event.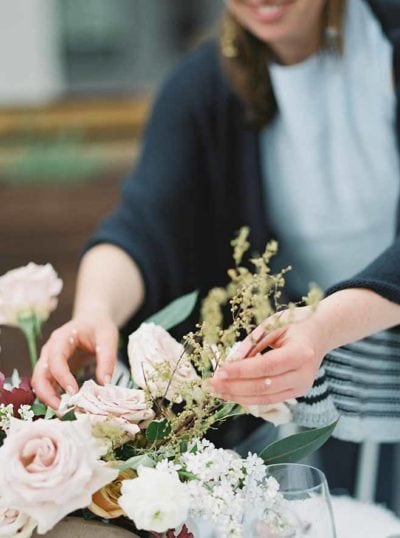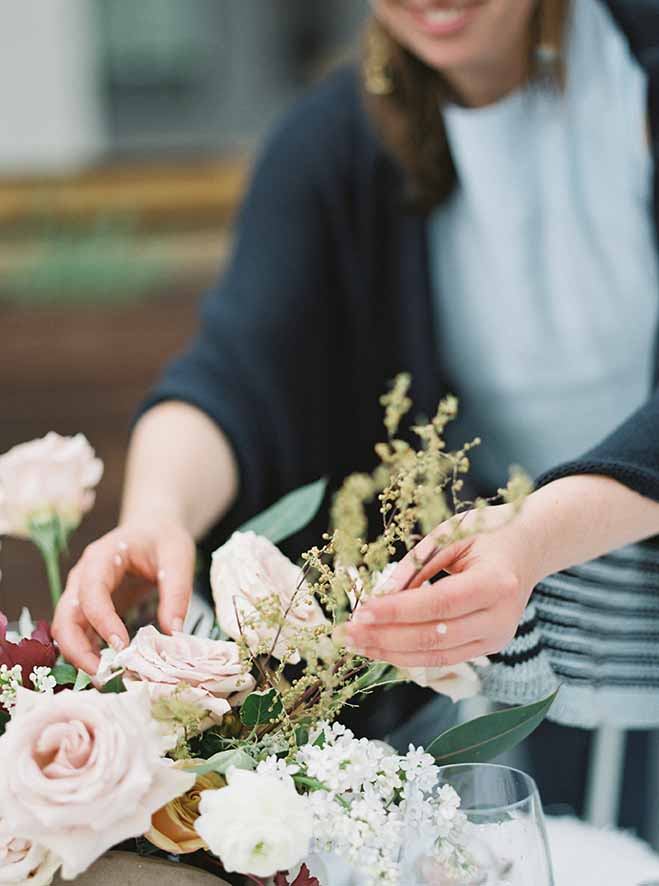 DIY Community Floral Workshops
We firmly believe that floral design can become a mindful creative practice. Our DIY Community Floral Workshops invite people to come together for evenings of making with intention. Throughout each workshop, expect time to reflect and ground yourself, as well as the freedom to make something wholly unique. In order to prepare each attendee for making a floral creation, every workshop features a live demo, time for questions, and one-on-one help.
At the end of each workshop, attendees always take home a handmade creation featuring only the best materials the season has to offer. During the fall and winter, our wildly-harvested evergreens and beautifully dried flora and foliage make their way to the gathering space for our wreath and garland workshops. Past workshops have included flower crowns, succulent centerpieces and fresh apple blossom arrangements.
Check out our upcoming workshop offerings and reserve your seat here!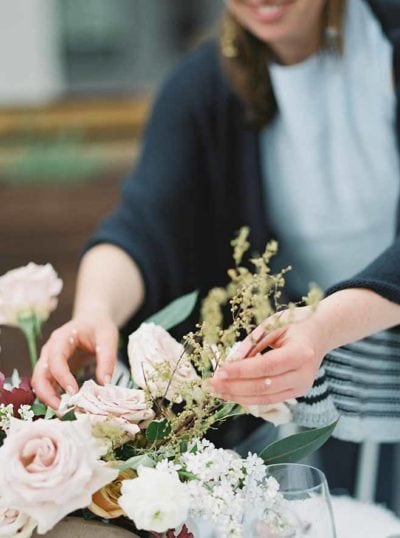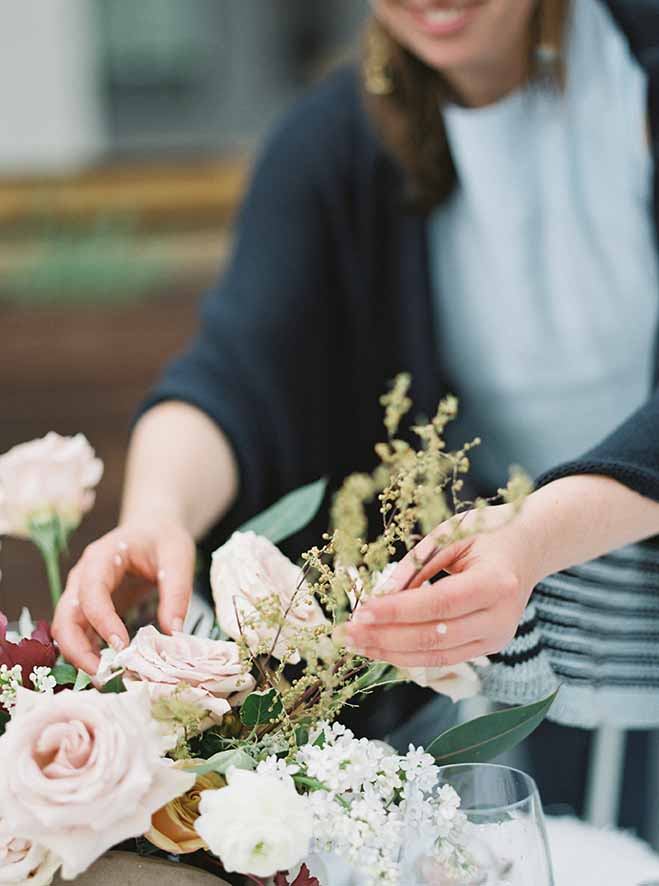 "Keep some room in your heart for the unimaginable."
– Mary Oliver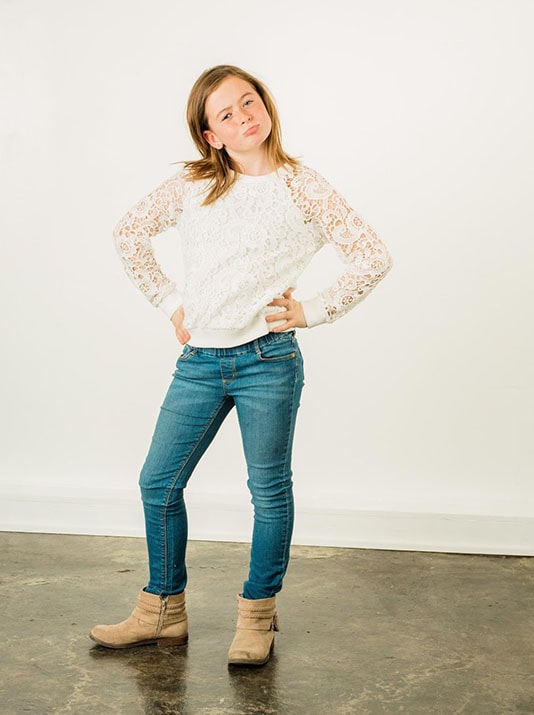 Earth Within Girls Program
Earth Within Girls is an extension of Melissa Emily's master's work in 'Cultivating Earth Centered Children through Plant-based Education'. The program was inspired from Melissa's personal journey in healing her imbalanced hormonal cycle through plant knowledge and self-care. Earth Within Girls offers monthly Full Moon DIY Workshops focused on mother-daughter bonding.
At these workshops mom's and daughters develop skills in plant wisdom and floral art and begin conversations around healthy menstrual cycles. We also offer after-school and in-classroom programs for upper-elementary and middle school girls throughout the community. Topics range from learning about herbalism, floral design and wellness practices rooted in connecting girls to their internal cycles.
Floral Arrangement Deliveries
Flowers speak a special language and we love leaning into the meaning of flowers when creating a one-of-a-kind floral arrangement. Our arrangements come in a variety of sizes and styles, and we often work with seasonal blooms and foliage to create something with distinct personality. Our flower arrangements are perfect for that special someone or that person who just deserves something beautiful.
Since we constantly shift what's available in our studio, we offer designers choice arrangement for delivery. We ask orders be placed 48 hours in advance to ensure we are able to meet your order request! Availability of dried vs. fresh flowers varies throughout the year, so feel free to get in touch about your order.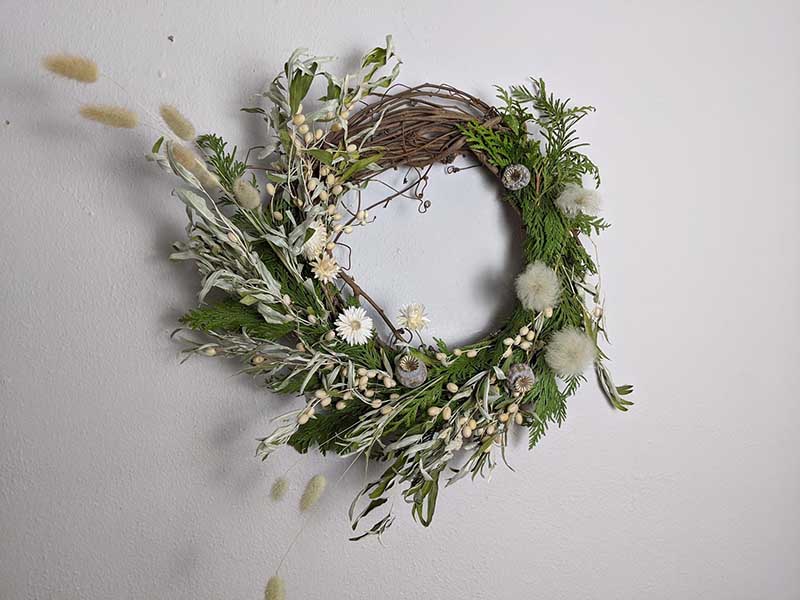 Our wreaths showcase the beauty of each of Montana's seasons, from the bright, vibrance of summer to the stunning contrasts of winter. To achieve this beauty, we focus on blending dried florals with fresh foliage to create a unique look, sure to dress up the front door or the living room. It's our mission to make these floral creations absolutely timeless, with their natural, delicate beauty.
We offer wreaths throughout the year, though our busiest times are the harvest and holiday seasons. During those months, you can purchase custom order wreaths from our online shop or find us at local retailers and pop-up shops.
Earth Within Flowers was born out of a need for more local and natural floral options in the Western Montana community. In the mainstream floral industry, a little of 80% of the flowers used in the United States are farmed in Colombia and Ecuador with pesticides and herbicides illegal in the U.S. and under unethical working conditions. We push back against these practices by embracing Slow Flowers and leaning into the magic and beauty of flowers.
For six years, we've pioneered a local movement alongside other florists and farmers across the state. We follow the seasons, sourcing many of our flowers locally and relying on Northwestern growers in warmer climates to supplement our floral stock in the spring and fall. In the winter, we primarily work with flowers we dried during the peak growing seasons. Melissa's background in herbalism, flower farming, and native plant studies influences all facets of our design and teaching.
In all of our business practices–from ethical foraging to our commitment to low-waste–we privilege sustainability over "the easy way," choosing to support both our local and global communities with all of our creations.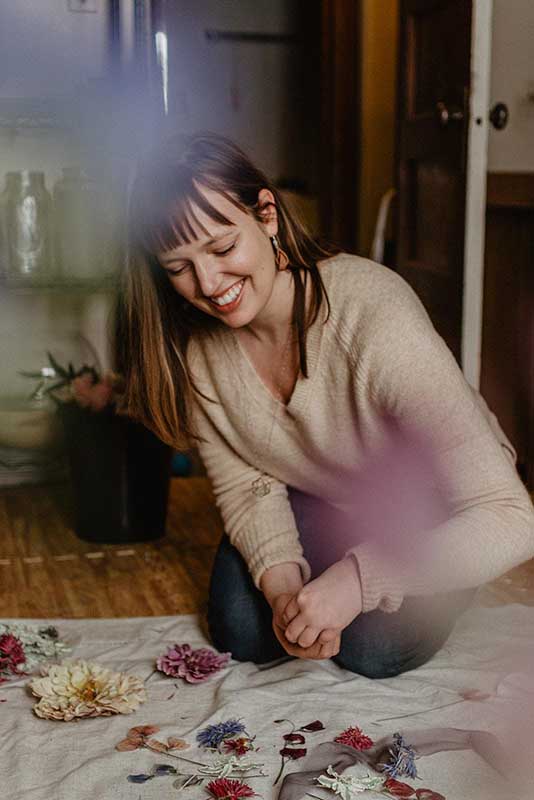 Weekly Flower Meditation Videos
Flowers and foliage grow all around us and play a key role in our creativity and connection to the local environment. When the mornings are warm and inviting, we love beginning our day walking in natural areas to soak in the bounty of our landscape. During this time, we connect to the subtle seasonal shifts and the energy of the world around us to find new ideas and inspiration. Some of these moments lead to new design concepts and other moments bring us to a greater awareness of our place in the world. We love to share our personal mindfulness practices to invite others into a deeper relationship with the world around them. Each week we share a Flower Meditation, which often focuses on the power of a specific flower or herb that has been particularly meaningful to us.
Join us each week to connect with the natural beauty of our mountainous environment. Our meditations share our adventures in wild foraging, as well as herbalistic practices and design concepts tuned into a specific mindfulness theme. We release a new meditation every Wednesday. You can find all of our videos on IGTV, Facebook, and Youtube.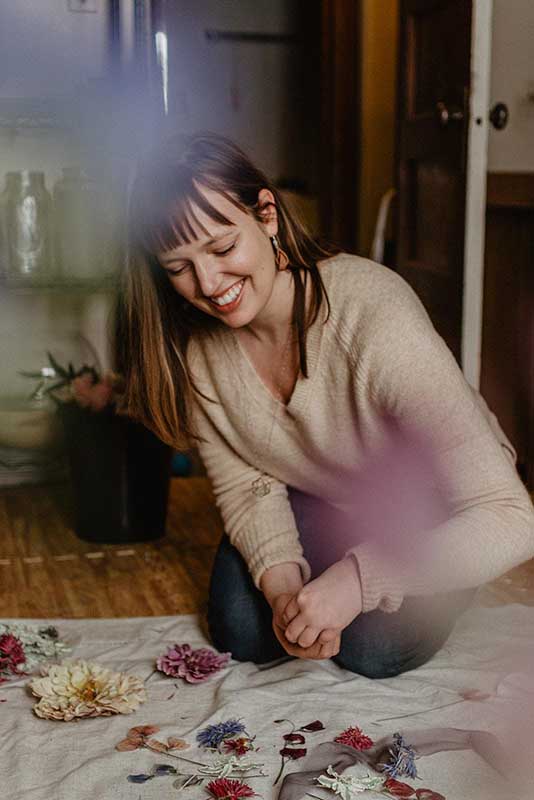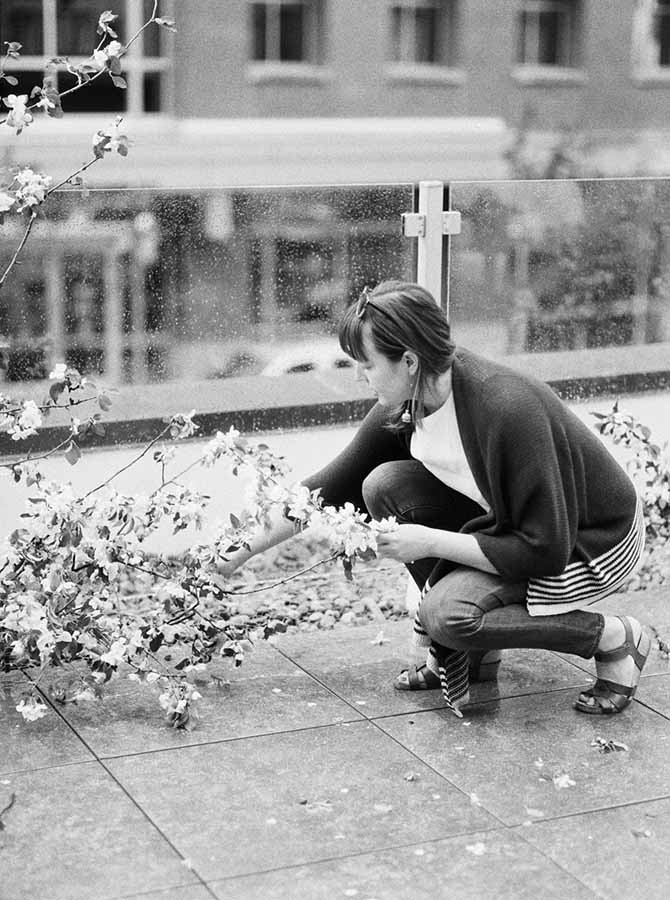 Online Floral Design Courses
Our classes have been described as deeply restorative and informative. Melissa Emily's teaching philosophy is guided by her Masters in Plant-based Education with a focus on Western Herbalism and Native Plant Studies. By taking a class with us, you will begin with a seasonal floral meditation to open up your creative expression and release any tension or worry from your day.
Our courses will review specific flower types by season and the theory of color, shape and textures to consider incorporating into your design. Some of our classes will cover ethical wild foraging tips and how to craft an arrangement with natural materials found right in your alley-way or hillside. The beauty of an online course is you can refer back to it at any time, anywhere. With this lifetime access, you can continue to refine your floral design skills across the seasons.