Dried Flower Arrangements
Dried flower arrangements are making a comeback in the floral design world! Their textural, timeless elegance are a lovely accent to home decor and are becoming a more popular bridal choice across the seasons. We started working with dried flowers because they express the seasonality of the landscape and flower availability in our Northern climate. Montana's long winters shorten the fresh flower season, so we love to design year-round with our stores of dried flowers.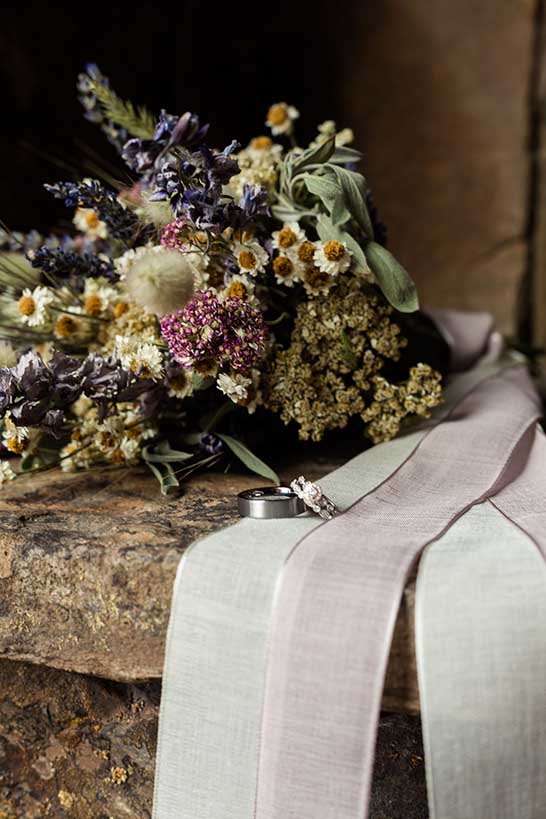 Serving Missoula & Surrounding Areas
Through the spring, summer, and early fall, we dry many unique varieties of wild foraged and locally grown flowers. Our studio walls are always lined with beautiful blooms being prepared for use in the off-season! These flowers brighten our spirits as we work with them while snow falls softly outside and reflect our dedication to using slow flowers in our business. It's important to us that our flowers reflect the beauty of Montana, while also feeling different and unique! To meet this goal, we often use flowers that are not commonly dried, like stock, tulip pods, and zinnias.
When ordering from us, you can expect your dried flower arrangements to have an individual look and feel. These flowers are especially beautiful counterparts to fresh flowers! In contrast, to the full and lush look of fresh flowers, dried flowers offer a more delicate, rustic look. This simplicity comes with an unforgettable style.
We provide dried flower arrangements year-round. Our online shop offers a place for anyone to place an order for an arrangement–whether a table centerpiece or bouquet. Currently, we are planning on expanding our arrangement offerings to include arrangements for delivery in the Missoula area. We've also had many couples choose to feature dried flowers in their weddings, and love to create wedding flower packages that encompass the beauty of dried blooms. Find our dried flowers in the fall and winter in our seasonal wreath offerings, custom order arrangements, and as focal pieces during our DIY community workshops.
Available Dried Flower Arrangements

Dried Flower Wedding Bouquets
Just like the Montana landscape, dried flower arrangements stand out. Envision the soft, rustic beauty of free-flowing grasses and vibrant, delicate blooms featured in your wedding florals. Everlasting dried flower bouquets are ideal for the sentimentalist who loves a unique blend of texture and contrast and as a no-fuss floral option. These bouquets are perfect for the couple who wants to enjoy pieces from their wedding long after the big day. We often hear stories from our dried floral clients sharing that their bouquets become a focal point for decor in their home!
Dried wedding bouquets are perfect for destination couples and couples who have a laid-back temperament. The flowers will retain their color for up to a year after the big day, with a gentle fade thereafter. Since we use locally grown flowers, they last longer than most dried flowers! We are sure to dry our blooms within a few days of being cut, to ensure maximum vitality and vibrance of the blooms.
Have you heard that dried flowers are fragile and easily break? We are always dispelling this myth because our blooms are unbelievably hardy and withstand the elements well. Our dried florals can be tossed around, wind-blown or rained on–which are all things that could happen on your wedding day here in Montana! Despite all of this, dried wedding bouquets still maintain a flawless look and feel.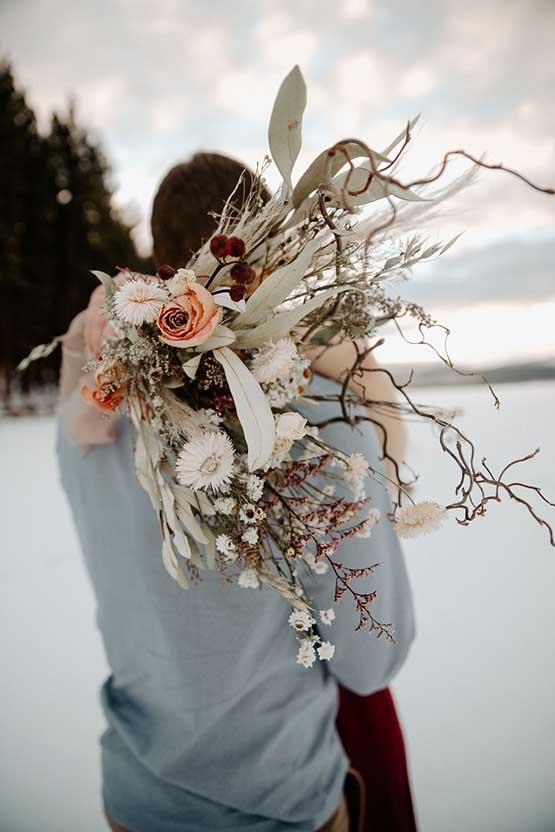 We believe that for dried flower arrangements to shine, they should encompass an element of simplicity. That said, we tend to use only 1-3 focal colors and balance those with neutral colors in our dried flower wedding bouquets. Often natural grasses are used to break up the colors and add a soft, delicate look and feel.
This design technique allows each flower to have room to show its own unique personality and pop in your bridal bouquet. Check out some dried flowers for wedding ideas via our Pinterest board or browse dried flower designs made for past wedding flower clients to develop your unique style.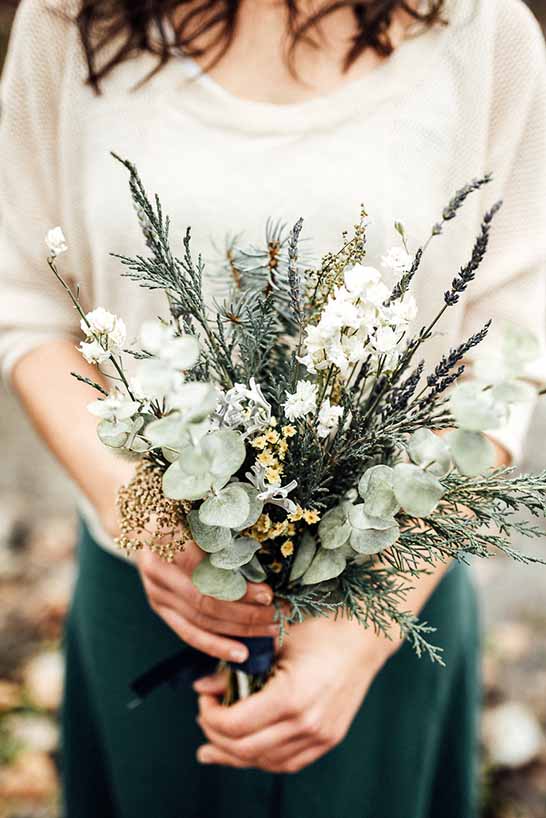 Dried Flowers Arrangements For Sale
No matter the season, dried flowers are a beautiful compliment to your home decor, as a gift for a loved one or to add life to a special occasion. Custom dried flower arrangements can be ordered via our online shop or over the phone.
Please keep in mind that many of our arrangements are designers' choice, meaning that arrangements are made uniquely with what is seasonally available in the studio. However, since we hang on to so many varieties of dried florals, we typically have any colors your heart desires. You can customize your order by choosing between small, medium and large sized arrangements placed in a market bundle or within a vase.
Depending on the season, we occasionally have pre-made dried floral arrangements for sale in the shop. We often notify our newsletter subscribers when we have special seasonal sales so we encourage you to stay informed via our bi-monthly newsletter. For instance, in 2019 we did two separate pre-made designs for our holiday wreaths. One with cool colors and one with warm with a limited number of wreaths available.
If you would like to buy dried flower arrangements for delivery please give us 48 hours advance notice to process your order!