Missoula Floral Design Workshops
It can be hard to comprehend the natural, rugged beauty of Montana. From snow-capped mountains in winter to clear-running rivers in summer, each season brings its own artful decadence. At our Missoula-based studio, we reflect our love of this unmatched landscape in all of our creations. From harvest wreath workshops to Wassail flower crown workshops, our inspiration takes root in Montana.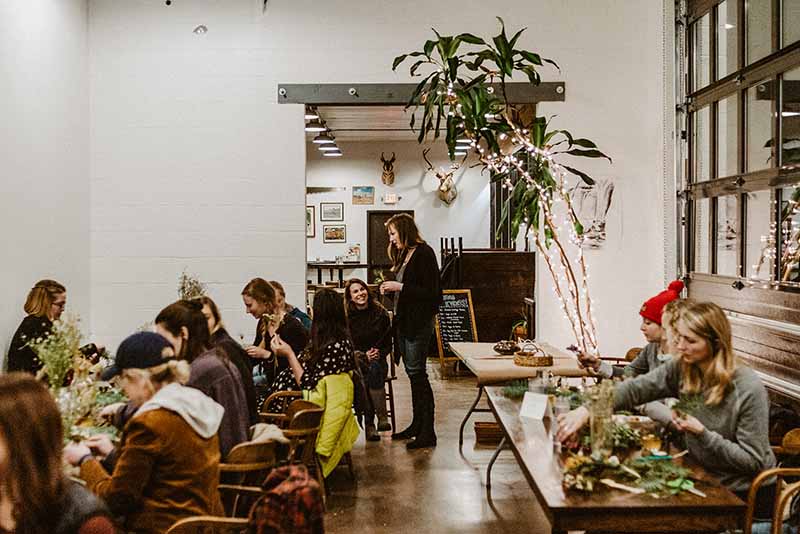 Throughout the year, we invite our community to join us for evenings of making with intention using locally-sourced and ethically-harvested blooms that fill the air with aroma and leave you feeling more relaxed than when you arrived. Each of these workshops features instruction from Melissa Lafontaine, the owner of Earth Within Flowers, and is hosted at a local gathering place.
Using her background in indigenous and western plant knowledge and a Master's in Environmental Education, Melissa's inviting teaching style means that every attendee will feel confident in their creation by the end of the session. After starting with a grounding meditation, she guides her makers through a live demo and then assists one-on-one to help each attendee find their unique floral style.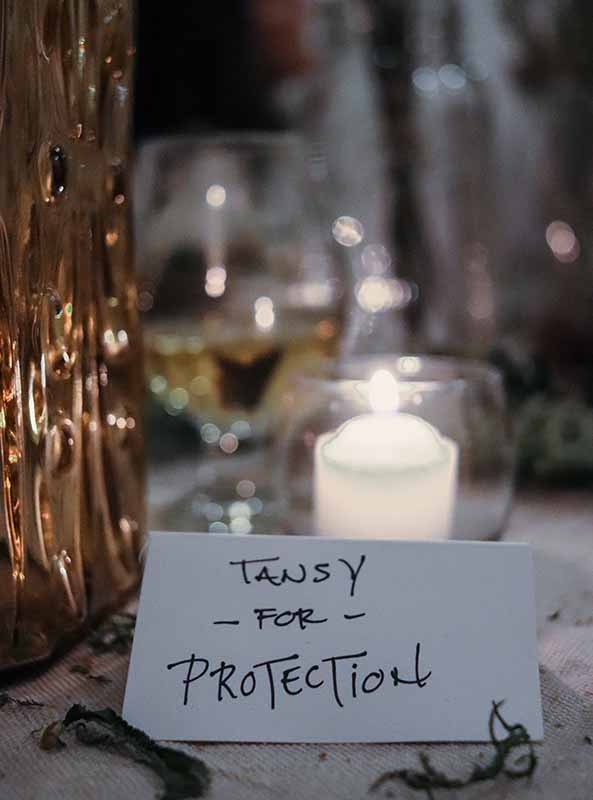 Fun & Educational Floral Workshops
Our workshops tend to sell out and there's a reason why! Throughout each session, attendees are encouraged to engage with their creativity to make something wholly their own. The community atmosphere supports new friendships built on the reflective act of using imagination and seasonal inspiration.
These floral design workshops feature guidance from lead designer and owner Melissa, who assists attendees in developing mastery on one skill, whether it's weaving together a garland for their holiday mantel or arranging local succulents in the perfect centerpiece. Over the course of these evenings, expect to laugh, make some new friends and leave feeling inspired. We truly trust in the joy-bringing spirit of flowers and creativity.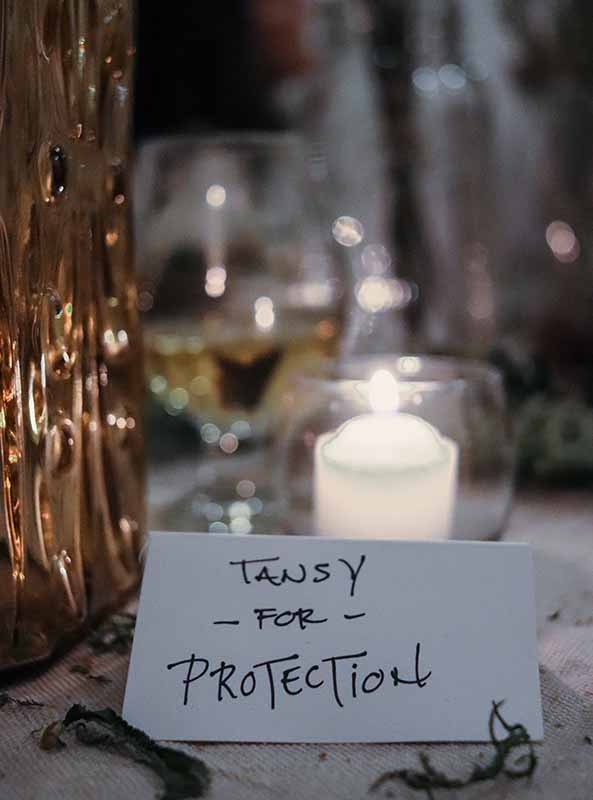 Wedding Floral Design Coaching Sessions
Our DIY Wedding Floral Design Coaching services give couples the instruction they need to create their dream wedding florals. During these sessions, couples work one-on-one with Melissa to create their DIY floral budget, manifest their personal style, and choose the perfect flowers. We then do all the background work from getting in touch with local farms, choosing seasonal flowers that match your style and budget and creating an easy to follow recipe and design.
This is the best option for brides wishing to stay within their budget but want to simplify the process of DIY design. Envision your own personal flower arrangement course that will build you and your confidence for creating a beautiful, simple floral decor on the day of.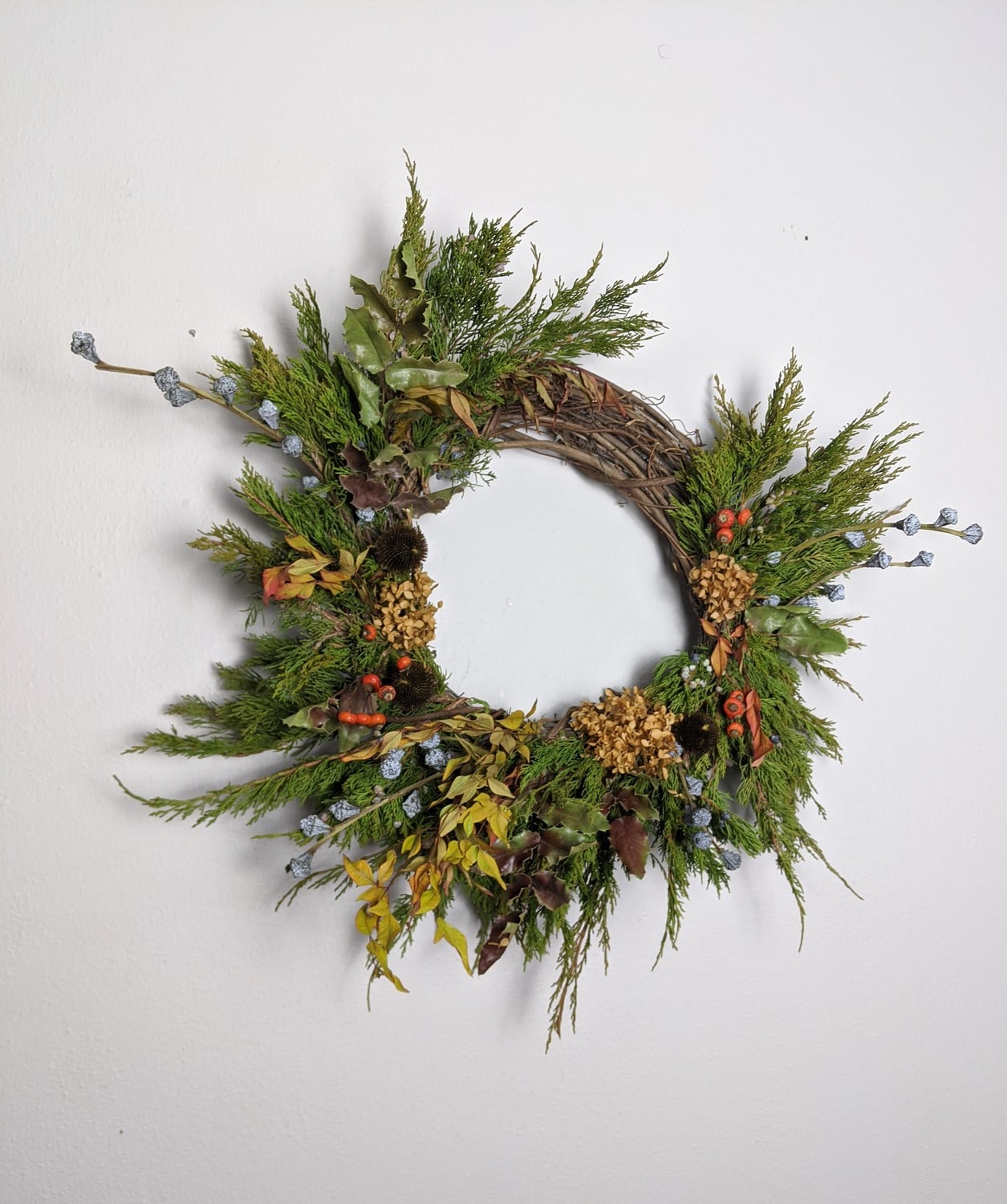 Why Take A Floristry Course?
Each of our workshops are tailored toward a specific design and season. In the fall and winter, we love hosting harvest wreath workshops and celebrating the more festive times of year with holiday garlands and new years intention wreaths. We've also held floral workshops on flower crowns, centerpiece arrangements, and bouquets. During these workshops, attendees can expect to be trained in a specific floral design method, while provided with instruction that allows them to make a personalized and uniquely beautiful design. We cover how to design specific flower arrangements with the most environmentally friendly practices and sustainable materials available at that time of year.
Melissa's wealth of design savvy and shared knowledge on the language and meaning of the flowers makes these workshops particularly memorable. Our goal is that floristry course participants leave with the confidence to continue creating well beyond our workshop. Often workshop participants send us photos of their future creations and report back about how they have connected with a specific flower and it's meaning in their everyday wellness routines. Our attendees walk away not only knowing how to create something beautiful but also able to incorporate the meaning and use of flowers into their creations and self-care practices. We hope you will treat yourselves to a workshop in the future and join our evolving floral design community!
Workshop Spotlight
 Recently we held two holiday workshops in anticipation of the festive season: Holiday Inspired Succulent Centerpieces & DIY Holiday Wreaths. The wreath workshops in particular are a community favorite, and will be offered again next holiday season as its 4th annual class.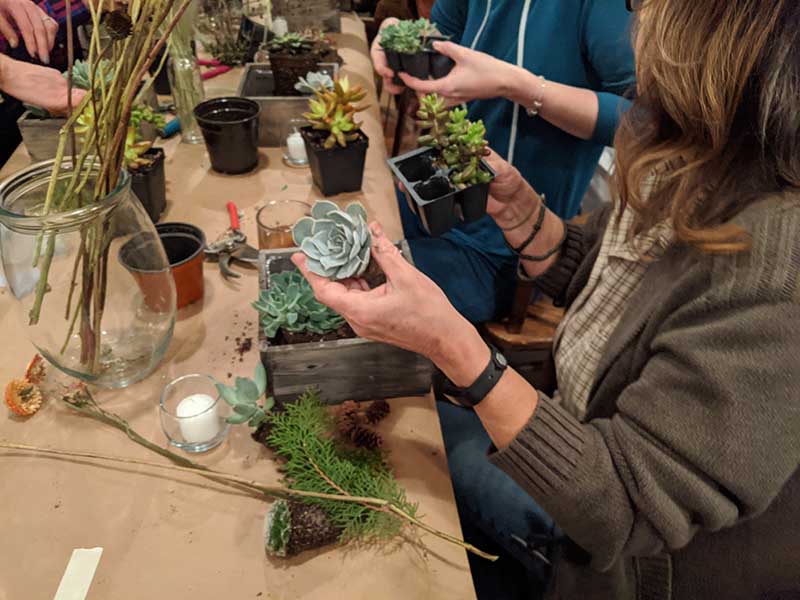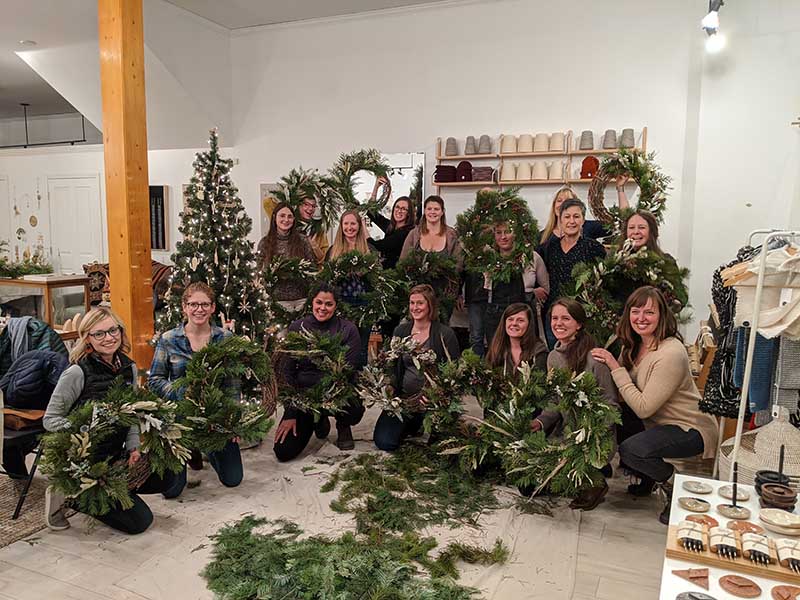 In addition to design and DIY workshops, we also host team-building that focuses on strengthening community dynamics through making and the language of flowers. We love to work with small businesses in Western Montana in creating a program that works for their workplace and employees.