Who should be your wedding florist?
Choosing your wedding florst is a huge decision for any couple looking to tie the knot. Do you want bright, bold, tropical wedding flowers? Are you looking for something more moody? Or maybe, you'd like a timeless, natural look? Your florist's design is important, of course, but your wedding florist's style isn't the only thing to consider when choosing your wedding florist.
Is your wedding florist available on your wedding day?
This may seem obvious, but make sure your wedding florist is available on the day of your wedding. Sometimes your wedding florist may be able to have your wedding flowers ready that day, but can only take al a carte orders since she has to deliver weddings flowers and complete a flower installation at a local venue. Let the discussion of availability be open and honest — and make sure you know what kind of flowers you want!
The more detail you can give your wedding florist, the more accurately she will be able to determine her availability.
At Earth Within Flowers, we are not limited to only Missoula and will travel to meet our clients on their wedding day!
Does your florist's aesthetic match your dream wedding?
No two weddings are alike and no two wedding florists are alike either. When choosing your wedding florist, pay attention to different styles, colors, and theme's in a florist's work. At Earth Within Flowers, we often use local, sustainable flowers for our timeless nature-inspired designs.
We recommend checking out a florist's portfolio on Instagram or looking at their website. If you could see yourself holding a certain bouquet or would just love a florist's stunning installation over the head table, then that may mean your aesthetics align.
Does your wedding florist use ethical flowers?
Choosing a wedding florist who uses ethical, slow flowers makes a huge difference. Not only will your wedding flowers be of a higher quality, but you will be able to feel good about support local, sustainable flower farmers. At Earth Within Flowers, using sustainable, slow flowers is a priority. Sustainable flowers are often fresher, last longer, and are more vibrant.
Using ethical flowers also means that a florist's stock changes with the seasons. In the cooler months, we use local greenery and dried flowers in our designs.
If you want to learn more about ethical flowers, we recommend checking out the Fairness in Flowers Toolkit.
How is communication with your wedding florist?
A wedding florist is someone you will be closely working with up until your wedding day. Before booking a florist, schedule a consultation or phone call to discuss what you're looking for with your wedding florals. This conversation is an important first step to choosing a wedding florist because you will want to hire a florist who you feel comfortable talking with.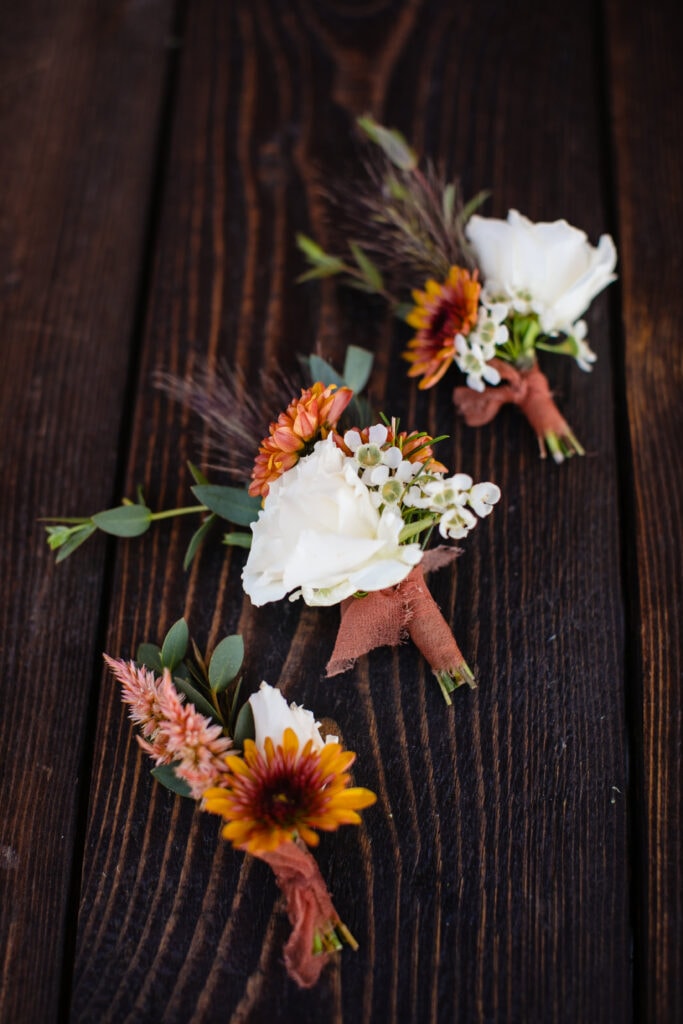 Does your wedding florist understand your wants and ideas? Sometimes we feel like we just jam with certain people. You'll want that feeling with your wedding florist to ensure you're on the same page when it comes to wedding floral designs.
What are past clients saying about your wedding florist?
Reading reviews and testimonials from past clients can give you so much insight into your wedding florist's work and relationship with their clients. Are past couples saying they loved working with your florist or that your florist made a vision into reality? That might be a sign to pay your floral deposit and discuss your wedding details!
Choosing your wedding florist can be hard, but it doesn't have to be. Make decisions based on your wedding logistics but, most importantly, your intutition.
Prepare for your wedding florist consultation with our Moodboarding Guide!
Our free moodboarding guide is the perfect tool to prep for your first consultation.
Once you sign up, you'll gain exclusive access to our Canva moodboarding template.
---
All photos by David Clumpner Photography.