Wedding Flowers
Flowers tell a story–one of love, joy, and new beginnings. At Earth Within Flowers, we specialize in sharing our clients' story through the language of flowers. Now in our eighth year of wedding floral design, we are seasoned in our creating designs that add a special magic to any celebration. Our style is often described as elegant, textured and wild. From envisioning the perfect bridal bouquet to selecting one-of-a-kind florals for a stunning archway, our clients share a special day filled with love and beauty perfectly accented by natural, poetic floral designs.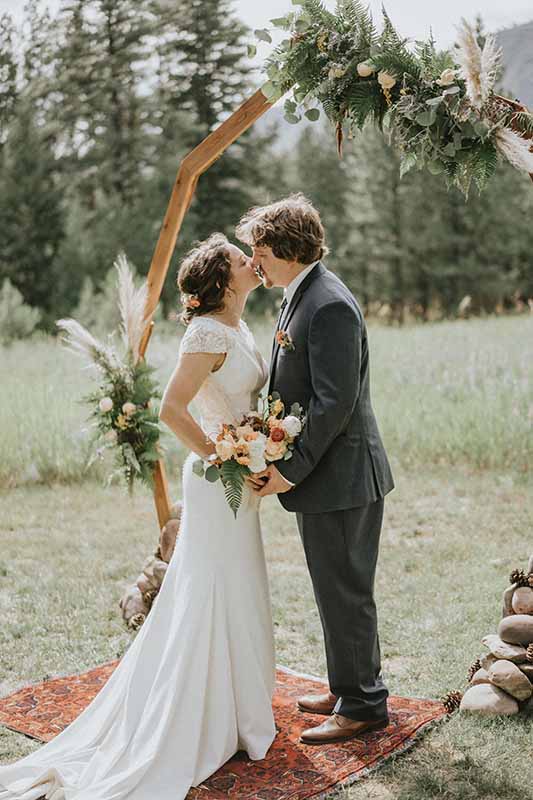 Serving Missoula & Surrounding Areas
We gather inspiration and more from all of our clients so that we can craft individualized designs based on a couple's personal style. All of our blooms are hand-selected from local or regional flower farms, and are accented with ethically-foraged greenery, herbs, and flowers from around Western Montana. By combining these unparalleled resources into our wedding floristry, we are able to satisfy any color palette or textural inspiration.
Our designs each have their own flair and character, drawing on Montana's wild landscape. We love to feature local flora, which means our wedding flower arrangements perfectly complement the surrounding natural beauty. At Earth Within Flowers, we know that each couple has something special to share and we want to help them find that message through floral design.
Throughout the floral design process, we work closely with our clients. It is important for us to get to know our couples intimately so that we can guide them on choosing wedding flowers, finding the right style and staying within their budget. The owner Melissa, prioritizes meeting with clients face to face for consultations, and is there through each step of the process. For instance, at the wedding you can often find her softening a brides arms and adding final touches to the bouquet right before she goes down the aisle.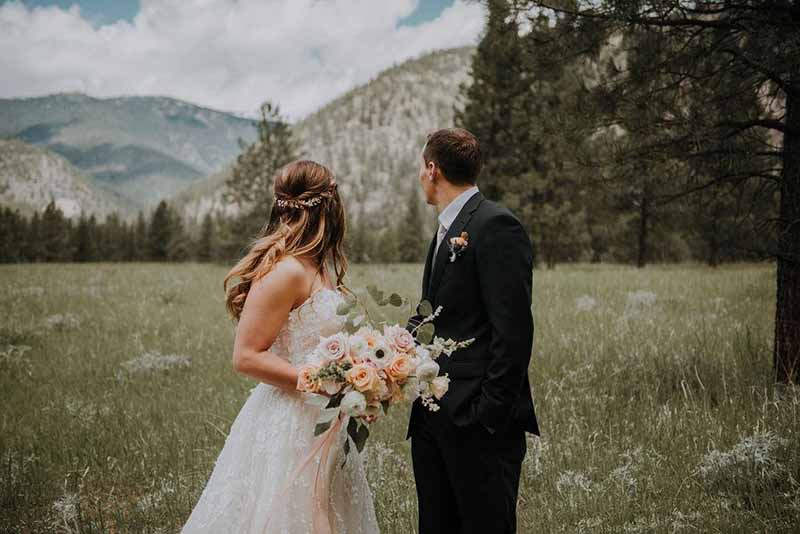 Full Service
Full service wedding design is our speciality. Our full service packages are hands-on and customizable. With these packages we work with your flower budget and floral priorities to create your dream wedding! These packages allow our clients to choose designs tailored to their style.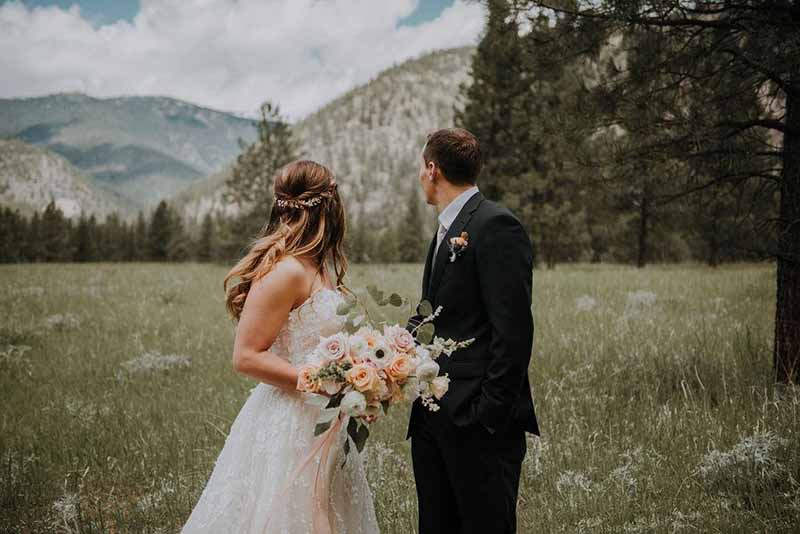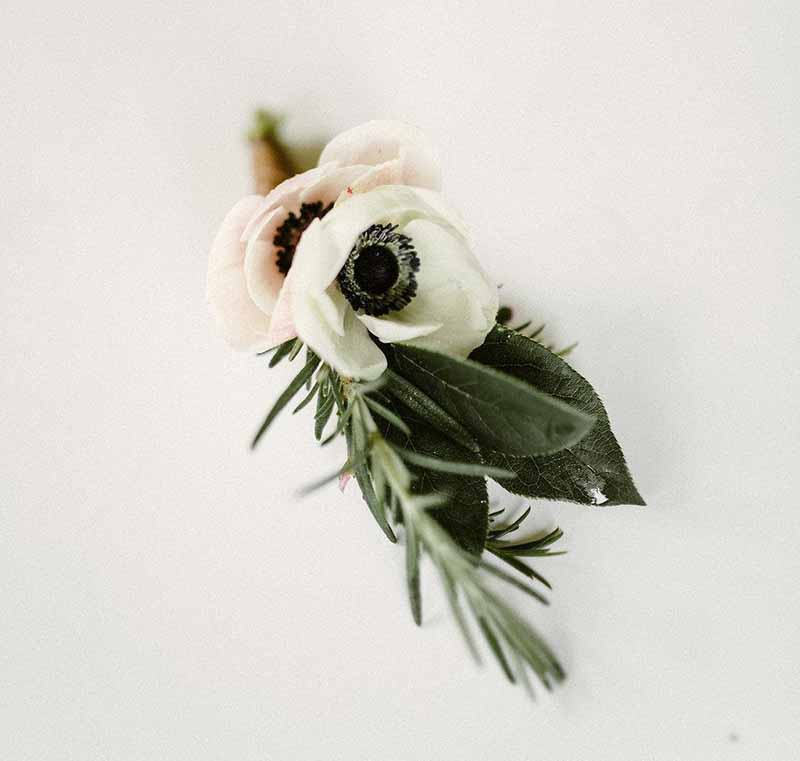 A La Carte
The A La Carte menu is perfect for couples looking for just a few floral accents or with flower budgets under a thousand dollars. With this option, the client provides us with their color palette and design inspiration, and then we do the rest!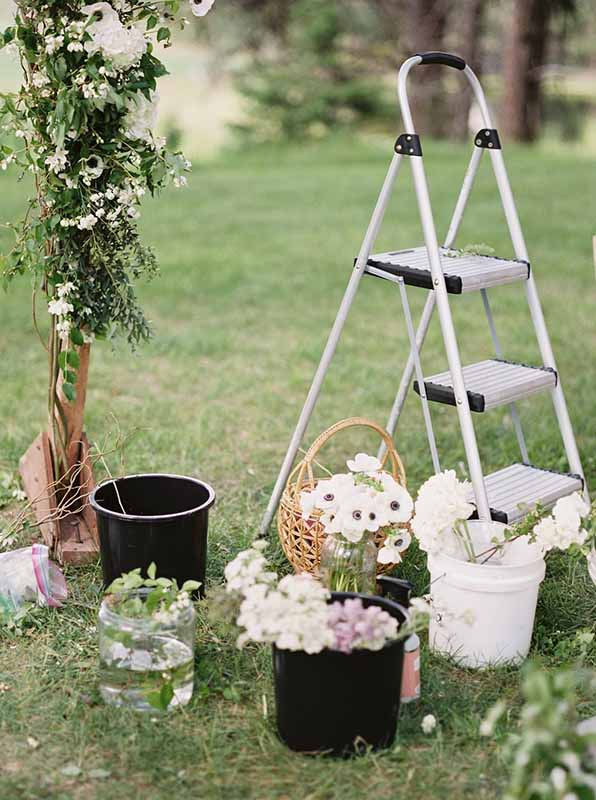 Want to design your own flowers but don't know where to start?
Since we have a short growing season in Montana so it is best to source flowers from several different farms to get as much variety as possible. Our DIY Services include helping you select the right flowers to match your decor goals, detailed recipes and a one on one design tutorial when you pick up your flowers.
Check our Sustainable Floristry Resource Page to learn more about our local farmers and why we are dedicated to choosing local and regional flowers.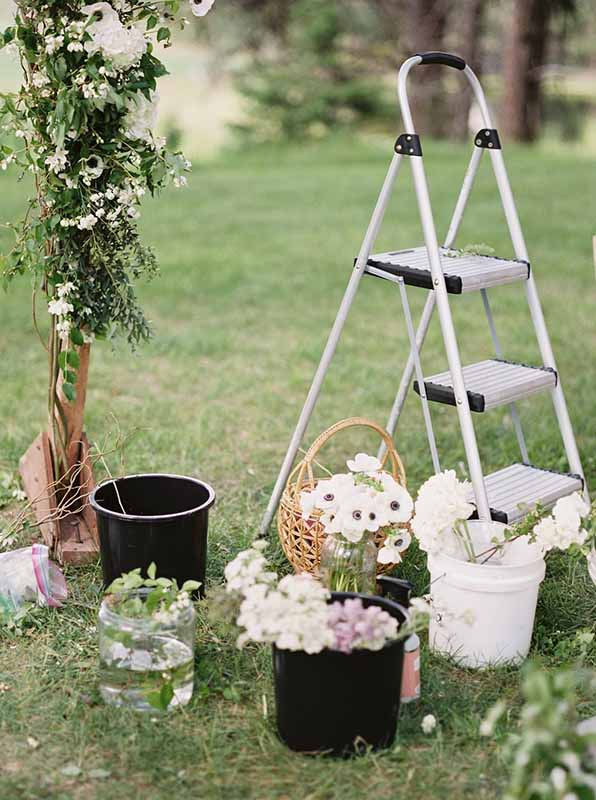 For most weddings, the bridal bouquet serves as the focal point in the overall event aesthetic. When working on wedding flowers, we create the bridal bouquet as the starting point for all other floral designs in mind. With so many elements to consider—including size, shape, color and texture—we've outlined a few different bouquet shapes for brides to consider when choosing their bouquets.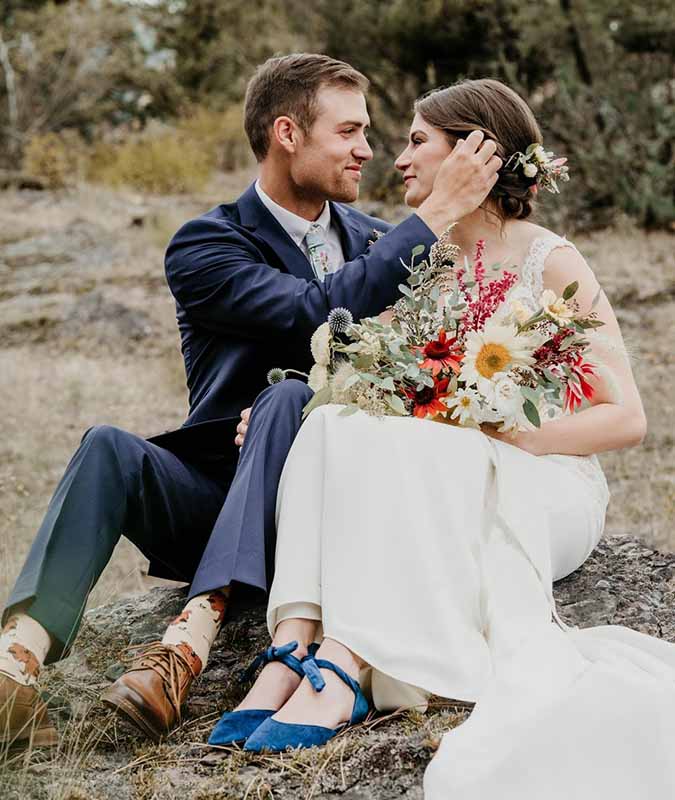 Hand-Gathered Horizontal Bouquet
With the flowers concentrated in the center and the greenery and more wispy blooms trailing out toward the sides, this lovely bridal bouquet shape has become a timeless class. The horizontal shape allows for versatility as it easily moves between boho, traditional, and natural styles. We often incorporate ranunculus, calla lily, roses, tulips, and clematis in these bouquets. Our hand-gathered horizontal bouquets are perfect for any style wedding.
Imagine holding a waterfall of flowers and greenery on your wedding day. With the cascading bridal bouquet, any bride will exude the drama and romance inspired by the unforgettable trailing effect. For this bouquet, we choose to feature blooms and foliage that have a natural cascade, such as orchids or vine-like greenery. Peonies, poppies, scabiosa, anemone and lupine also work effortlessly in these style bouquets.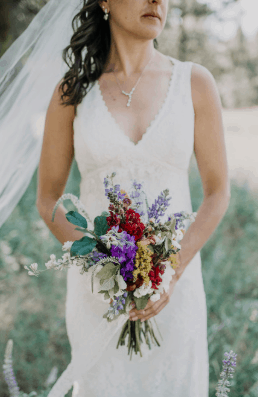 Our wildflower wedding bouquets take their inspiration directly from the natural, poetic world around us. We really lean into the "found-and-gathered" look for this style, often incorporating some of our favorite local wildflowers like larkspur and yarrow. Though they may seem simpler than some of the other bouquets we offer, the understated beauty of a wildflower bouquet is nothing to look past.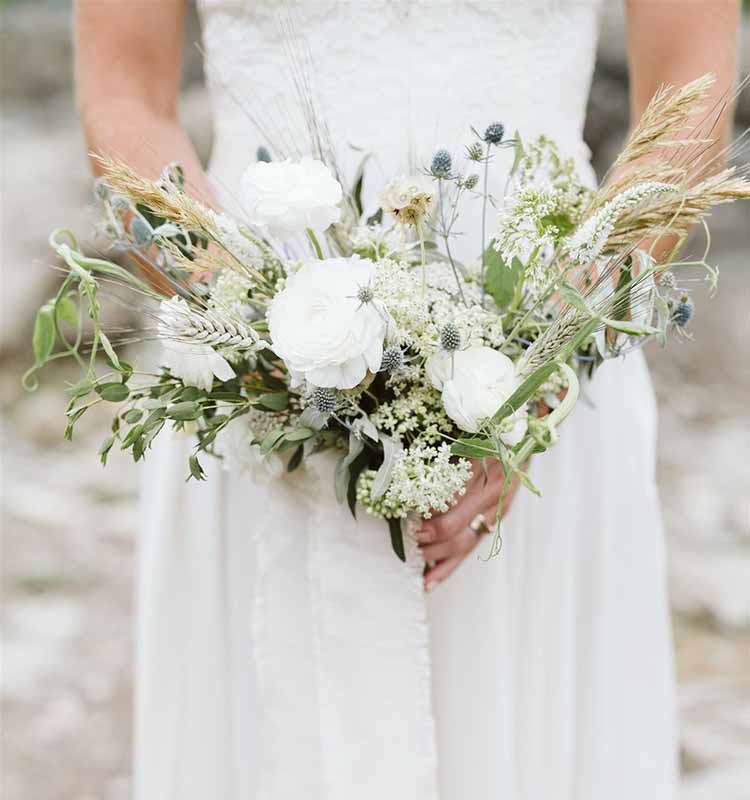 Incorporating Fresh With Dried
Mixing fresh and flowers in a wedding bouquet celebrates the many stages of life. We love how the contrast between the vibrant, fresh blooms and the delicate, dried flowers adds a unique, textured element to a bridal bouquet. Think unique grasses or dried textural elements that draw in the beautiful montana landscape.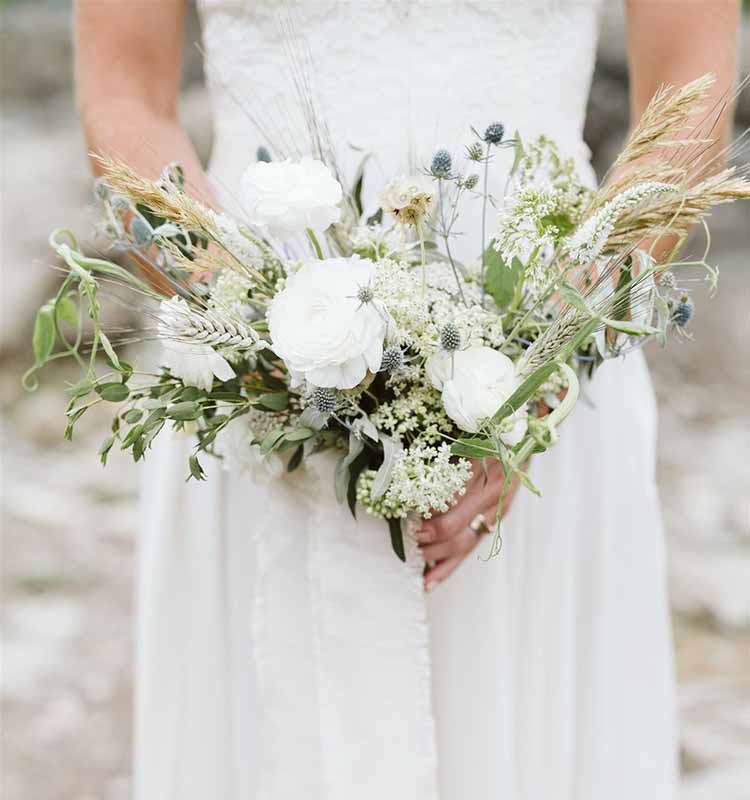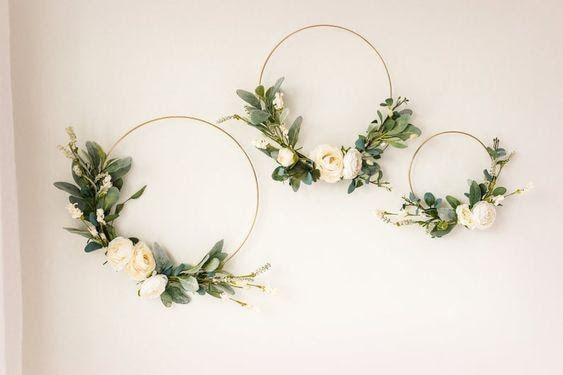 Floral hoops for the bride and bridesmaids have become more and more popular in recent years. Most often designed on a copper or silver metal hoop, this option for bridesmaids as a distinctly modern touch to any wedding ceremony.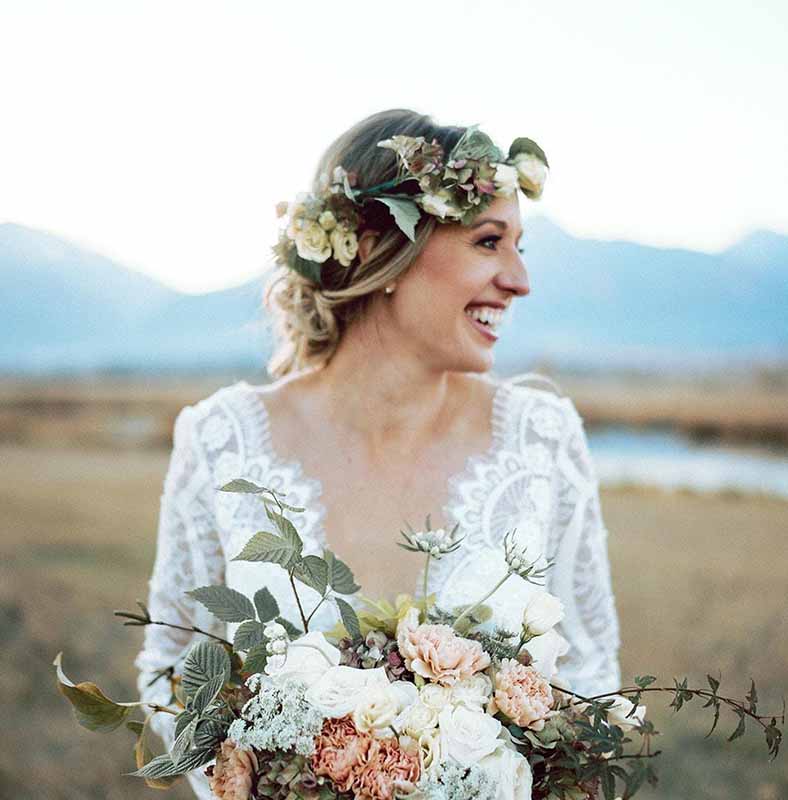 Flower crowns can add a touch of whimsy and floral magic to any celebration. We often work with brides on crafting bridal flower crowns, as well as crowns for their bridesmaids. Some brides choose to forgo the bouquet entirely and rock a flower crown down the isle. The crown can also serve as an accent to the bridal bouquet during the ceremony or can be put on prior to the ceremony to dress up your look. This floral accent can bring together any wedding's aesthetic and be worn long after the big day!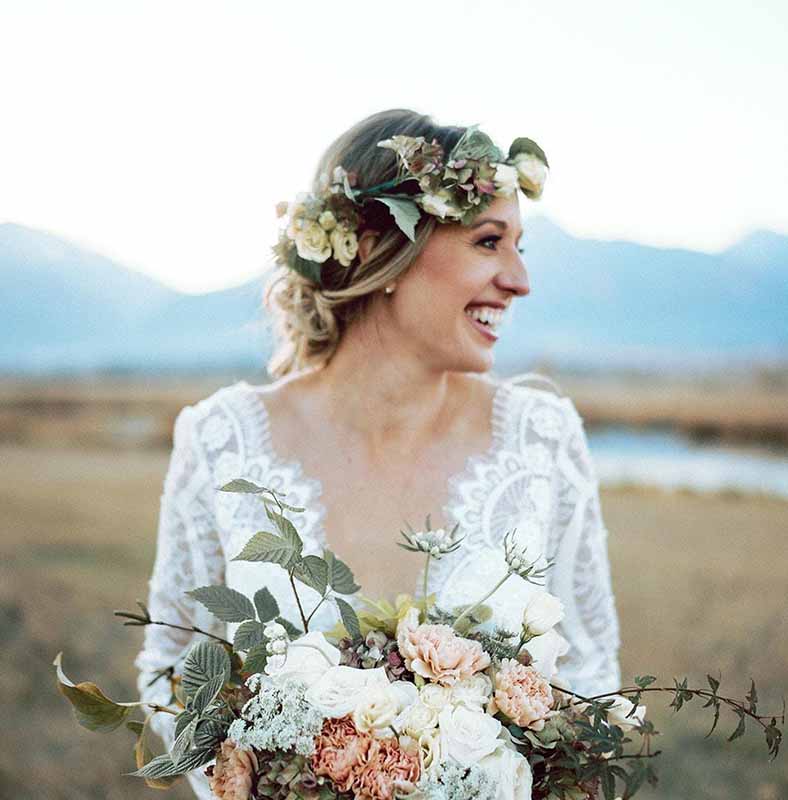 Our wedding flower centerpieces provide our couples with a unique way to display amazing artistry at their weddings. We offer a variety of wedding centerpieces—hanging installations, asymmetrical centerpieces, flat lays, and bud vases—to tie together a couple's wedding aesthetic and help them create their dream wedding. Clients with an inclination toward drama may opt for an elaborate hanging installation over the head table paired with some softer arrangements complementing the table settings. For a simpler, more delicate design, couples may find that a greenery flat lay works perfectly to bring in that natural touch.
We work closely with many of our clients to dream up something perfect for their celebration. In the past we have designed bud vases detailing the meaning of the featured flowers and perfectly wild fern arrangement for the head table.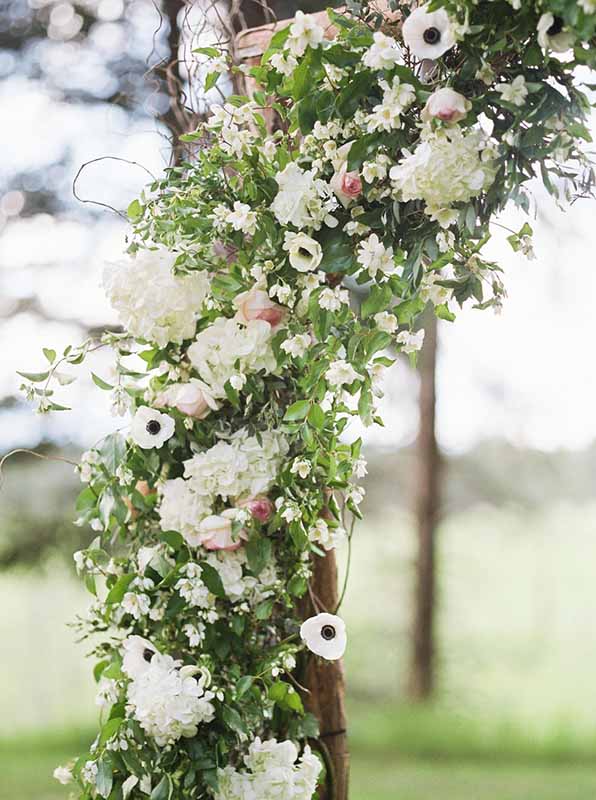 We love how floral details at the ceremony can heighten the romance and reflect the beauty of the Montana landscape. From chair flowers to archways to aisle arrangements, these designs can incorporate a couple's unique style and add a finishing touch to any ceremony space.
We often work with clients interested in our beautiful, full archways. For past clients, we have designed archways featuring wild greenery and freestanding greenery and floral archways, which make the spot where you say "I do" just perfect.