Why choose a Montana destination wedding?
Maybe we're biased, but we think that the wild beauty of the Montana landscape serves as the perfect backdrop for your big day. With our forests and mountains, Montana brings a special kind of natural poetry to any celebration. At Earth Within Flowers, we love working with destination wedding couples to find their personal style and incorporate their unique look with the stunning beauty of our home. When working with destination clients we take care to find the ways that two places can work together in one special, beautiful celebration.
Whether you are visualizing whimsical gardens, modern industrial styles with a lovely softness, or fields of wildflowers, a Montana destination wedding offers a setting sure to please as you design your dream wedding.
Finding the perfect place
With so many venue options, it can be hard to choose where you want your wedding! We love working with the different venues across the state because each location brings its own spark and personality to the event. Western Montana has some of the greatest venues, all operated by wonderful people who put their events and relationships with clients at the forefront of their work. At all of these venues, the language of flowers comes to the forefront. With each of our weddings, we work with our couples and the venues to figure out how to best tell their love story using flowers local to the place of the celebration.
We love to visit the destinations our state has to offer. We are always inspired by the landscapes and natural settings! Our floral design studio current delivers wedding flowers to Missoula, Alberton, Helena, and the Bitterroot, Flathead, and Glacier areas. Our team has also traveled to the Bozeman are for weddings.
Earth Within's Montana Destination Wedding Package
In recent years, we've seen an increase in destination weddings in our area. So, we have created a customizable Montana destination wedding floral package that can meet both simple and intricate wedding flower needs. This way you have one less thing to worry about when you plan your getaway. At Earth Within Flowers, we wish for your wedding flower experience to be tailored to your style and color theme so we ask that you provide a few inspiration photos and colors and let us do the rest.
When you choose us for your wedding flowers, you don't only receive flower design inspired by nature. Our work leans into the meanings of flowers. In all of our designs, we work intentionally to tell stories with our flowers.
From the consultation to the designing to delivery and set-up, we love to bring your floral dreams to reality. We want you to choose your best wedding flowers and have an unforgettable wedding day.
The Montana Destination Wedding Floral Package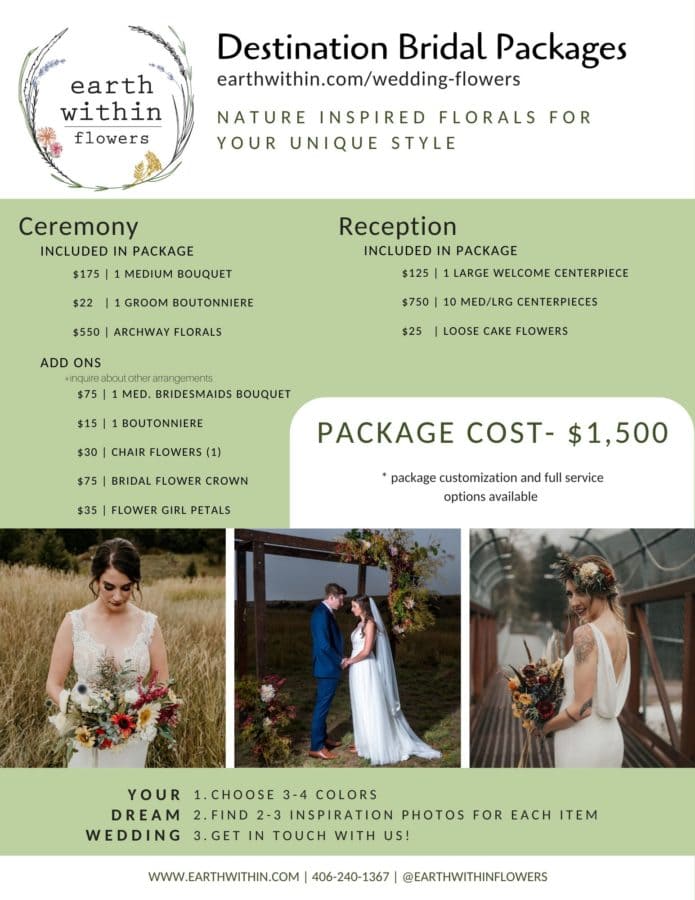 Join our Montana family! As a warm welcome, we have put together competitively-priced full-service package. Our designs feature season Montana and Northwest grown florals, tailored specifically to your style and venue. Both fresh and dried floral options are available!
We also pride ourselves in offering Montana destination wedding couples sustainable options for their big day.
Plan Your Wedding Florals
Looking for more inspiration? Visit our portfolio to see more of our nature-inspired work. Then, contact us to book your complimentary wedding flower consultation! We are so excited to hear about your floral vision.