Celebrate a Sustainable Valentine's Day in 2022
At Earth Within Flowers, we love the floral magic of Valentine's Day. Indulging in the language of flowers is central to our floristry practice and we love seeing everyone use this special language to share their love and adoration. You can use sustainable flowers and herbs to say anything from "I love you" to "thanks for being a friend." Every year, we commit ourselves to celebrating a sustainable Valentine's Day and leaning into the heart-healing power of some of our favorite herbs. To us, leaning into these earth-loving practices adds a little extra care and beauty to any intimate date night out or cozy night in.
Dried flowers are the perfect 2022 sustainable Valentine's Day gift
In our studio, we love using dried flowers, especially in the winter season. Montana winters don't leave us with the fresh flowers we see during the summer months, so every year we plan ahead and dry some of our beauties for a flower-filled winter. Dried flowers are also a wonderfully sustainable option, allowing us to know our flowers were sourced ethically. The slow flower movement is especially important to us because it allows us to see the natural beauty of Montana year round.
We recommend finding the perfect dried arrangement or bouquet. We absolutely love the dried arrangement we crafted for our styled shoot with Cory and Liv Photography. The soft colors are perfectly complement the rosy hues we love this time of year. We also love the wild beauty of this arrangement, and think this style would be perfect for anyone wanting unique, stunning florals for their loved one.
Dried flowers are also long-lasting, which makes the gift of flowers more than a single-week affair. Our dried flowers stay on display throughout the year, reminding us of the special language shared on Valentine's Day.
Discover the magic of heart-healing herbs
The beauty of flowers and the magic of herbs pair so well together. In our arrangements, we often focus on how we can share the language of flowers through floral essences and the meaning of herbs. For Valentine's Day this year, we are leaning into the heart-healing power of rose, hawthorne, and motherwort. These herbs would be beautiful in an arrangement or as part of a sustainable Valentine's Day indulgence evening.
Rose
Roses are an ever-popular flower for Valentine's Day, and for good reason. Roses bring passionate and intimate energy, perfect for showing your partner that you are enthusiastically in love with them. We love incorporating roses into our Valentine's Day designs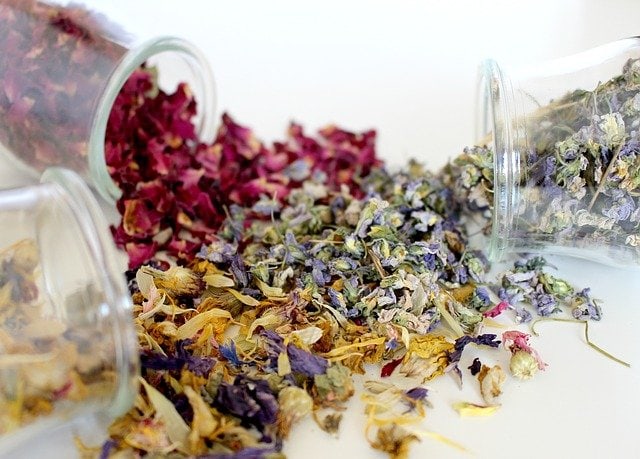 for their color, timelessness, and representation of love. These flowers are just as beautiful dried as they are fresh, maybe even more delicate and breathtaking.
Hawthorn
Hawthorn adds brilliant greenery from the leaves, as well as a bright pop of color from the berries. All relationships need strength and hawthorn is the perfect magical herb to add to both show and manifest strength in a relationship. This beautiful plant will also bring renewed energy into a relationship, giving you and your partner the endurance to stay together, no matter rain or shine. We recommend adding this to any Valentine's Day arrangement and feel the goodness of hawthorn's magic.
Motherwort
Sometimes called "lion's heart," motherwort is the perfect herb to use this Valentine's Day. This herb can build confidence in a relationship and also offer cleansing if you and your partner are going through a rough patch or just need some new energy in your duo. We especially recommend sitting down with a mug of motherwort tea to really soak in the beauty and goodness of this wonderful herb.
Dried flowers year-round
No matter the time of year, dried flowers are perfect. Learn to dry your own flowers and herbs for your own home apothecary or support a local business through the winter months by purchasing dried flowers and arrangements. At Earth Within Flowers, we love to create beautiful dried arrangements through the year. Whether a dried flower arrangement or dried flowers for your special day, we will craft floral artistry. Contact us to order your dried arrangement or schedule your free floral consultation.
Craft Sustainable Valentine's Day Magic
This time of year often seems like it's all about couples, but we know how important it is to get together with friends. For Valentine's Day in 2022, celebrate Galentine's with our flower crown kits at CREATE Art Bar.
Flower crowns have been worn for centuries. When we make flower crowns in our studio, we love to imbue our crowns with intentions and meaningful ethical flowers. Choosing the right flowers is important since each flower has its own meaning and magic.
Making a flower crown is all about following your own intuition and letting the magic of the flowers speak to you and what you need right now. Our tutorial below helps you get started with making a sustainable flower crown.