Our owner and lead designer, Melissa Lafontaine, recently spent some time at the Slow Flowers Summit, where she met with other florists and designers to spend time in creative community and practice. Not only did this experience provide inspiration for some upcoming designs, it made us want to share some of the ways we can all enjoy some local flowers magic. 
Why should I buy local flowers?
No matter the season, you can purchase flowers by walking in the grocery store or by ordering flowers from an online retailer. At many of these places, the flowers they sell are not in season in our area and are grown using unsafe practices, including harmful chemicals and pesticides. These year-round flower farms also often employ unsafe and unethical working conditions.
Earth Within Flowers has always been committed to slow, local flowers to ensure that we do not contribute to environmental degradation and climate change. Additionally, we want to support growers who prioritize ethical working conditions. By working with flower farms in Montana, we are able to build relationships with our growers and support our local economy and environment.
Buying local flowers in Missoula, Montana
Those of us in Missoula are lucky because we spend everyday surrounded by natural splendor. We're also lucky because there are many wonderful flower farms and growers near us!
We adore Crescent Ridge Farm. Located in Alberton, this family-run farm has been a local flower destination with their specialization in You-Pick flowers, as well as their flower shares.
In the summer, we partner with them for our On Farm Floral Design workshop series, where we create stunning floral pieces, while surrounded by the beauty and magic of flowers.
Killing Frost Farm, in the Potomac Valley near Missoula, grows stunning flowers that we love to incorporate into our designs. Their Instagram account features pictures of some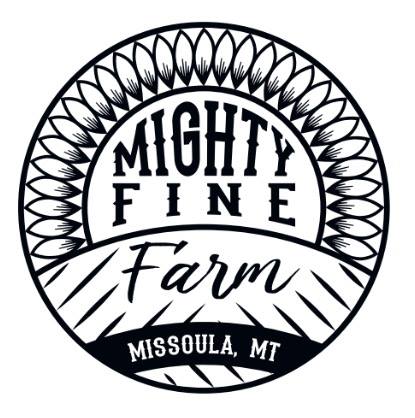 gorgeous flowers that inspire us everyday!
Mighty Fine Farm is a great option for anyone looking to be part of a local flower CSA or seeking wholesale flowers. Their sustainable, organically-grown flowers are to die for.
What started as one field of flowers at County Rail Farm, became a whole farm of gorgeous blooms! Field Five Flowers offers a delightful selection, including fresh and dried flowers.
Whether you're local or you're visiting, the Saturday markets are a great place to find fresh, local flowers. Both the Clark Fork River Market and the Missoula Farmers' Market have seasonal options of flowers for anyone looking to bring some blooms home.
Choosing local flowers
In our work, we always choose local flowers. Spending time with local blooms is rejuvenating and reminds us of all the reasons we love Montana. We are always so grateful that our clients commit to slow, local flowers.
On Farm Floral Design Series
This summer, we are spending evenings at Crescent Ridge Farm focused on creative and intuitive floral design. This floral workshop series is sure to inspire and ground you. Learn more about our On Farm Floral Design workshops.
2022 Weddings
Though we are booked for 2021, we still have space available for 2022 weddings. We would love to set up a free consultation with you. Tell us how we can make your floral dream a reality using slow, local flowers.