A budding slow flower movement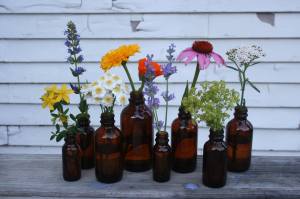 There are  many benefits to growing flowers closer to home. Local flowers serve as essential food for pollinators,are aesthetically pleasing, and offer great potential to preserve farmland for the future.  For instance, a farmer in Paradise Valley, Montana who has a dried flower business generates over $80,000 net each year. On average, an acre of flowers in production can produce $30,000 annually (Prinzing, 2015).
In Montana our flower season is May- October with our best months from July- September. Since our growing season is so short florists that value local must get creative. We find ourselves cutting apple blossoms  from urban trees  and knocking on neighbors doors for a few local tulips in the early spring-time as well as source flower from neighboring Northwest farms such as PeterKort Roses, a beautiful organic rose farm in Oregon for more selective items. In the winter, we use regional dried flowers and local red osier dogwood. Some really lovely dried flowers are lavender, eucalyptus, larkspur and globe thistle.
I have to admit when I relocated from Brooklyn, NY to Montana I've felt frustrated and not able to compete with the corporate flower market pricing and volume expectations from potential clients . Yes, our flower market just like our food market has become one run by large-scale conglomerates which has caused consumers to see flowers of all varieties available year round at a low cost. Yet, the exorbitant environmental and social costs are hidden from the price tag at the store. More attention has been drawn to the importance of community resilience– from local food to energy consumption and more recently to the flowers. All over the country, a slow flower movement has been pulsing. From the co-oop style Wholesale Growers Market in Seattle, the daily stands of delicate flowers from New Jersey at the Union Square Market in NYC and the budding flower farm and florist collectives in colder climates such as Wisconsin and Alberta. Montana flower farmers such as the Harts Flowers, Fialky Flowers and Blue Willow Farm have been growing flowers and bringing them to market for over a decade. Selling out most weeks and spreading the idea of cut bouquets to other vegetable farmers in the Valley. While within the last year a group of younger, flower loving women have joined the growing force. It's exciting to see the old school group of farmers collaborate with the newer younger flower farmers to create budding collaborations and more viable market opportunities for local florists. For instance, The Westside Flower Market, created in Summer of 2016, features wholesale flowers by Killing Frost Farm, Mighty Fine Farm, Black Bear Produce, Sam Cypher  and Harts Flowers. This eclectic flower market provides gorgeous blooms in the alley way  of Killing Frost Farm near Draught Works Brewery.
To learn more about the Missoula slow flower movement, arranging and growing tips please join us on Wednesday August 31st at River Roads Farm for our 2nd Earth Friendly Flower workshop with the Missoula Urban Demonstration  Project. Learn more and to register HERE 
This infographic shares several benefits to supporting your local farmer and planting flowers in your own urban oasis! 
 
The Tale Unraveled…
Flowers are given as a token of love, compassion and joy and used to celebrate life's most celebrated events. They are also symbols of affection and sympathy during life's more difficult moments. The United States alone spends 8 billion dollars annually on flowers (Prinzing 2015). However florists and consumers rarely stop to consider where their flowers come from. In fact, according to a survey done by the California Cut Flowers Commission in 2013, of those surveyed 74% of consumers don't know the origin of their flowers, while 58% prefer American grown flowers if given a choice (Prinzing 2015).
The truth is 80% of the US's flowers come from of the flowers are imported from other countries. 65% come from Columbia and the other 17% comes from Ecuador (Prinzing 2015). In these countries fundamental labor rights of flower workers are consistently violated by growing companies. Workers are routinely forced to work overtime without additional pay, are exposed to toxic chemicals without proper training and equipment, and are deprived the right to collectively bargain for decent wages and safer conditions (Stewart 2007, ILRF 2007). Women, who make up the majority of flower workers, face sexual harassment and violence at astonishing rates. For instance, women are often forced to take pregnancy tests as a condition of hire, and if found to be pregnant, are not hired (Stewart 2007). Unfortunately those found to be pregnant while employed are often fired (ILRF 2008). More surprisingly a report done by the International Labour Organization found that 1/5 of those working in flower cultivation are children (Fisher 2012).
Mothers Day and Valentines Day, where US consumers purchase more flowers on those days than any other day of the year, is considered the high season for flower farm workers. They often work 20-hour days and are often not paid overtime (ILRF 2008). While a bouquet of roses are selling from anywhere from $7- $100, flower farmers are paid on average $7 per day (ILRF 2008). February 14 is not just Valentine's Day it is also known the International Day of Flower Workers (ILRF 2008). It is a day dedicated to raising awareness about the dire circumstances of flower workers throughout the world.
Since 1992 58% of domestic flower farms have gone out of business due to low cost imports (Prinzing 2015). However, over the last 15 years there has been a resurgence of domestic flower farms and flowers being added to vegetable production farms as a way to diversify income. The 'Slow Flower' movement has been lead by author and activist Debra Prizing who created slowflowers.com, a local flower farm and florist directory for consumers. Additionally, the Association of Specialty Cut Flower Growers is an great resource to florists and flower farmers alike as well as an advocate for sustainable, domestic flowers. However, larger farms in California where 76% of flowers are grown have their fair share of social and environmental issues too. This is why I believe that simply sourcing flowers domestically is just the stat to tackling these issues.
Viva the Montana and Northwest Flower Revolution!!!
References
Fisher, Max. 2015. There is a 1 in 5 Chance your Valentines Day Flowers were Cut by Child Laborers. www.theatlantic.com
International Labor Rights Forum. 2008. Fairness in Flowers: Campaign Toolkit. www.laborrights.org
Prinzing, Debra. 2015. Where do your flowers come from? Slowflowers.com infographic resources. www.debraprinzing.com
Stewart, Amy. 2007. Flower Confidential. New York, New York: Algonquin Books of Chapel Hill.
Watson, Anna, Holt, Diana. 2008. Exploring the dilemma of local sourcing versus international development – the case of the flower industry. Business Strategy and the Environment, 17: 318 – 329