The Art of Medicinal Floral Design
Arranging a bouquet elevates individual elements into a beautifully complementary and cohesive arrangement. It is a fulfilling creative exercise and a tangible way to connect to the earth. Arranging a bouquet connects us to natural elements through our senses and can be quite healing. Many of our native plants and cultivated have historically been used for plant based food and medicine.
Bouquet arranging is an individual expression filtered through the lenses of the creator. However, there are a few principals of flower selection and design that can help guide this process. Floral elements for a bouquet can be broken down by their flower shape and bloom structure. Three of my favorite elements to work with are focal flowers (flat flowers such as daisies, peonies, or ranunculus) , filler flowers ( that help fill in a bouquet and add structure such as eucalyptus or feverfew) and sparkle flowers ( typically added last as they add the pop and interesting contrast to the arrangement such as foxglove or scabiosa pods).  Below we share 5 medicinal plants in bloom in mid-summer and how they can be integrated into an arrangement.
Echinacea
(
Echinacea purpurea
)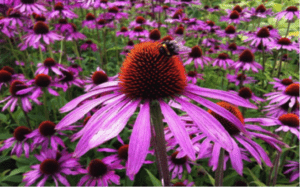 From root to flower Echinacea is a powerful source of alkyamides, which stimulate the immune system and leave your tongue tingling. Echinacea has been used as a powerful medicinal force for centuries to reduce symptoms of a cold and help the body fight infection.
As a design element, Echinacea stands out as a focal flower with a vibrant conical center and petals ranging from cream, to copper and purple. The contrast between the bright petals and textured center are eye catching.
Yarrow
(
Achillea millefolium)
Yarrow is present in ancient tales of the Greek hero Achilles as he treating wounds with a poultice of this plant. As a tea or poultice this American native plant has an incredible impact on our circulatory system, with various treatments can mobilizing stagnant blood or induce clotting of an open wound.
As a focal flower Yarrow eye-catching colors of uniform umbels of small tightly arranged flowers. Filler flowers, such as Borage and Feverfew, are essential in a bouquet to fill spaces and draw the eye to the focal flowers.
 Borage
(
Borago officinalis)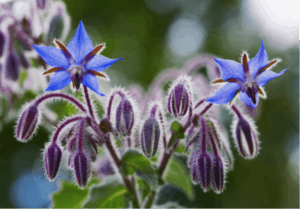 Borage leaves are used in treatments that benefit multiple aspects of the human body from stimulating kidney activity, to aiding lactation, and treating skin or throat irritation.
As a filler flower to round out arrangements Borage shows off beautiful star shaped flowers in shades of indigo and violet. Delicate drooping flower buds and flowers gone to seed surround the clusters of flowers. The tiny hairs covering the flower clusters of Borage flower stalks catch the light beautifully.
 Feverfew (Tanacetum parthenium)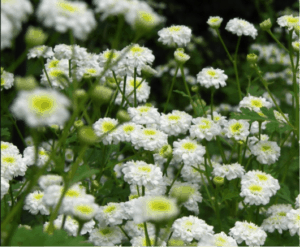 A member of the Daisy family and closely related to chamomile, Feverfew leaves hold the strength to prevent migraines, improve circulation and blood flow, and reduce inflammation.
Feverfew is a favorite bouquet element with its sturdy yet dancey clusters of cream to white flowers with single or double petals.
  Fireweed
(
Chamerion augustifolium)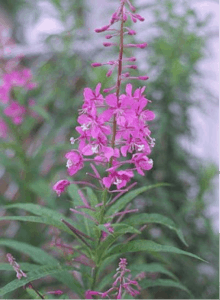 Fireweed is a plant with numerous edible parts that also hold potent medicinal properties. A treatment of Fireweed leaves can be applied topically to soothe skin irritation, burns, or muscle spasm.  When ingested, treatments of Fireweed promote health in all aspects of the digestive system.
Highlighting a Montana native, Fireweed adds sparkle to the bouquet with a unique structural element in its tall single stems of delicate blossoms that slowly open over the summer.
Creating an arrangement using only medical plants allows us to dive deeper into the traditional history and power of the flowers around us. To create a beautiful design utilizing medicinal plants imparts a deeper meaning and wisdom to the arrangement.
Join us this Thursday July 27th from 6-8pm at the Missoula Urban Demonstration Project for our Medicinal Centerpiece workshop. Register here! 
Sources:
http://www.blackfootnativeplants.com/fireweed-chamerion-angustifolium/blackfoot-native-plants/
http://montana.plant-life.org/cgi-bin/species03.cgi?Onagraceae_Epilobiumangustifolium
http://www.traditionalmedicinals.com/articles/echinacea-101/
http://www.motherearthnews.com/natural-health/herbal-remedies/yarrow-uses-natural-healing-ze0z1401zbla
https://www.gardeningknowhow.com/edible/herbs/borage/different-borage-flowers.htm
http://www.umm.edu/health/medical/altmed/herb/feverfew
http://medicinalherbinfo.org/herbs/Feverfew.html
http://www.umm.edu/health/medical/altmed/herb/feverfew